Three Honda Civics made a clean sweep of the podium positions with a commanding first, second and third result in the FIA World Touring Car Championship Race 2  in Shanghai. Tiago Monteiro led into turn 1 from his pole position starting spot and held that place for the entire 10 laps, extending his lead to 1.1 seconds over Castrol Honda team-mate, Gabriele Tarquini. Norbert Michelisz battled furiously for those 10 laps to retain his third place to the end, another fine result for the young Hungarian star and his popular Zengo Motorsport team.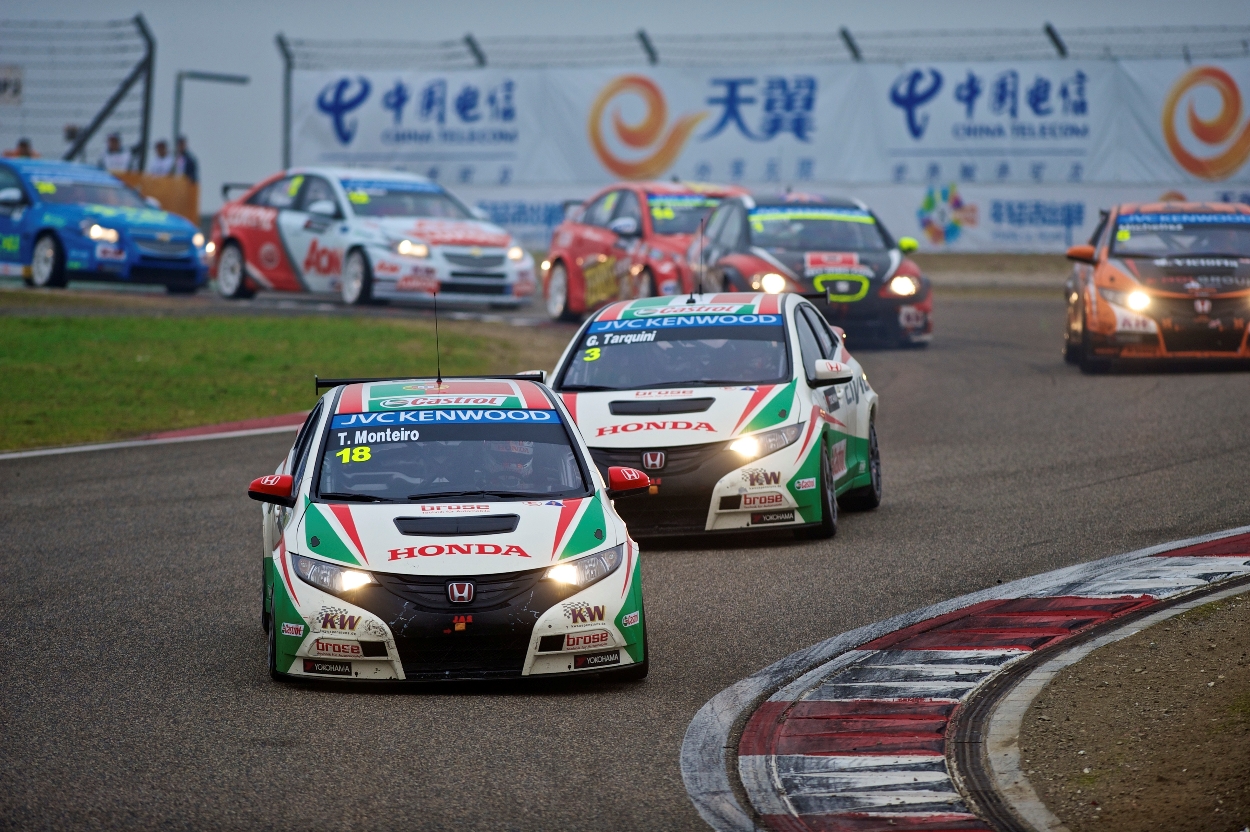 This was the second clean sweep for Honda having achieved the same impressive result  at the Slovakia Ring event earlier in the season. Victory in China is the third for the Castrol Honda team and the fourth in the season for the Honda Civic WTCC cars in the first full season in the WTCC. Each of the three Honda drivers has taken at least one race win this season so far.
For Monteiro this was his first victory of the season and first with the Honda Civic, having been at the wheel since Honda launched its WTCC challenge in the last three events of 2012. "That is an amazing result for me and Honda with my team-mates too. Every time we race we improve and this is a great reward for the whole team. I want to thank everybody for making this happen, I'm proud to be part of this great Honda project. I dedicate this win to my mother who is recovering from recent health problems," said Tiago climbing out of his number 18 Civic.
Earlier in Race 1 damp conditions had forced the start behind the Safety Car for the first two laps. When racing proper commenced Tarquini was in a seven car battle for the duration, finally taking 7th place at the flag. Michelisz finish 10th and Monteiro 11th.
For Race 2 track conditions improved to allow slick tyres to be used, but the heavily overcast skies meant the cars ran with headlights blazing for the whole race.
From the start of Race 2 the three Hondas set the pace, Tiago and Gabriele slipstreaming away from the pursuing pack where Norbert showed his indomitable spirit and concentration to retain his grip on the third position against sustained attack from reigning WTCC Champion Rob Huff.
"That was a dream race really," said Norbert. "I never thought I could get this result in Shanghai. I knew that I must overtake right at the start and then there was a heavy fight going on behind me so I had to concentrate all the way. I had to use some different lines and really work the brakes and tyres hard. There was little grip left on the last laps but I got home with a great result."
Gabriele Tarquini was delighted with the podium results: "Without question I had to give maximum attack from the start. But I have to recognise that Tiago made a fantastic race and he had the edge over me today. It was a fantastic race for us and I'm so happy for this second Honda hat-trick."
Daisuke Horiuchi, Large Project Leader for WTCC development from Honda R & D is certain that this result truly reflects the development progress and also the great teamwork in the races. "Once again we have showed that even with full ballast and a difficult track for us we can deliver the results. The race pace was perfect, the engine and chassis worked superbly and I am especially proud of the team strategy and the drivers teamwork. This result shows total professional performance in the operation."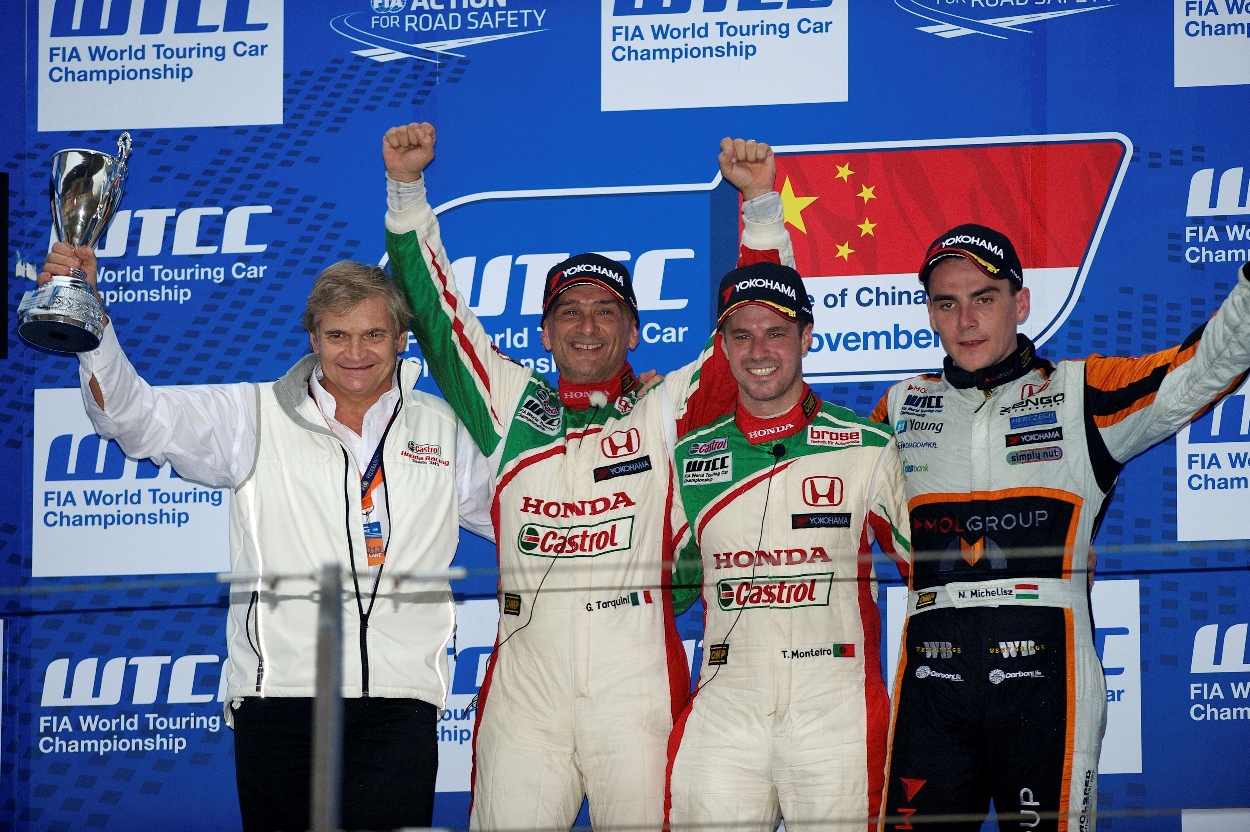 At the post-race press conference Tiago explained his emotions; "I said before this weekend that I hoped for a win before the end of the season but maybe I didn't expect it here before the event started. But everything worked just great, my luck seems to have changed for the better recently. It may have looked quite simple but that was as hard a race as I've had. From the very first metre off the line it was like a qualifying lap every lap. I really wanted this win."