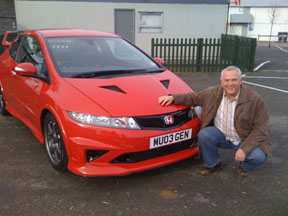 The one-of-a-kind Civic Type R MUGEN Concept was presented to Jim Morgan at Silverstone race circuit where he was the guest of Honda (UK), who ran the free-to-enter competition, which attracted over 24,000 entires.
The MUGEN Concept car was jointly developed and built by MUGEN in Japan and MUGEN Euro in Northampton in 2009, since when it has been featured in many of the UK's leading motoring magazines and web-media. Positive feedback from journalists and enthusiasts alike resulted in MUGEN Euro embarking on a programme to hand-build 20 examples of the car, which takes a standard Honda Civic Type R, and turns it into a 237bhp super-hot hatch, with brakes and handling to match.
The MUGEN Concept car is the first Honda car owned by ex-kart racer Jim, and, after a lap of Silverstone circuit with Honda BTCC star, Matt Neal, followed by a tour of MUGEN Euro in Northampton, Jim and his son, Danny were excited to drive away in what is probably the most sought-after Civic in the UK
For those not lucky enough to win one, there is still the opportunity to own an exclusive Honda Civic Type R MUGEN priced @ £38,934 OTR – contact colin.whittamore@mugeneuro.com for further information.