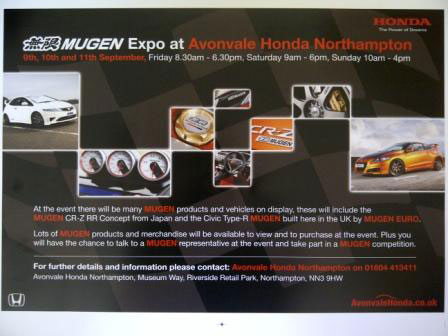 Avonvale Honda in Northampton are holding a Mugen Expo event on the weekend of the 9th to 11th September. There will be many Mugen vehicles, products and merchandise on display in the showroom for you to look at and purchase at the event.
At the show will be the Mugen CRZ RR from Japan, Mugen Civic Type-R and the Mugen CRZ development vehicle as well as many other Hi-performance Honda's.
There will be a large amount of Mugen parts and merchandise at Avonvale Honda to view and purchase. Avonvale will have lots of special deals on Mugen products over the weekend for parts in stock and purchase during the event.
There will be Mugen representatives at the event if you have any questions or just want to have a chat about Mugen.
There will also be competition prizes to be won which will include a VIP tour of the Mugen Euro Facility in Northampton for 10 lucky entrants. Plus many other prizes!
So whether you are a Mugen fan or just want to see what we do and who we are then this is the event to be at!