On his debut senior Pro race in the MX1 class, PAR Honda rider, Scott Elderfield, took an excellent victory with a spirited ride at the opening round of the British Masters Championship at Mallory Park on 14th March.
On a deeply rutted track that tested the most skilful of riders, Scott, taking no time at all in becoming familiar with the MX1 machine and revelling in the extra power that the MUGEN-kitted engine gave him, took the chequered flag in front of the Yamaha of Zach Osborne, reversing the result of the earlier MX2 race. He was looking forward to a similar result in the second race when unfortunately it was abandoned with the riders already at the gate due to the strict 18:00 curfew in force at the Mallory circuit.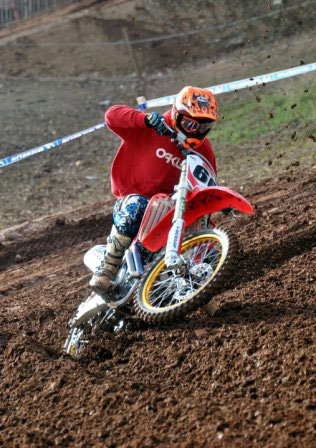 Pascal Leuret, racing for MAR Racing, gave the new MUGEN CRF450R Banzai kit its UK racing debut at the first round of the Maxxis ACU British Motocross Championship at Little Silver in February, with a fine 2nd place in the opening race. Unfortunately Pascal suffered an injury during the second race and was unable to continue for the rest of the day.
Made in Japan to the stringent renowned MUGEN quality standards, and with its uniquely-styled exhaust header pipes, the MUGEN Banzai kit is immediately recognisable; and when fired-up the quietness of the system always inspires comment.
However, once on the track it is apparent that underneath that quiet exterior lies the power needed to take on the toughest of opposition. The MUGEN kit develops its power from the bottom-end punch out of the corners right through to the upper rev limits, allowing the rider to hold on to each gear just that crucial amount longer.
The kit can be run with the standard fuel injection settings or tailored to suit individual rider/circuit requirements by a simple adjustment of the standard Honda OEM ECU using the HRC FI setting tool.
The MUGEN CRF450R Banzai kit consists of a barrel, cylinder head and complete exhaust system, and a limited number will be on sale from early April from selected Honda off-road motocross specialists.
The RRP for this kit will be £1696 + VAT
A full list of available outlets will be published soon; in the meantime if you would like to register your interest in advance please email colin.whittamore@mugeneuro.com