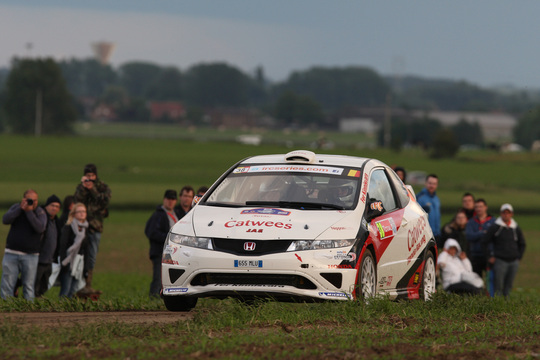 Victory in 2WD for Martin Kangur
Martin Kangur roared to the top of the 2012 IRC 2WD Drivers' Cup this weekend, following a stunning victory with co-driver Andres Ots at the Geko Ypres Rally. It is the second IRC win for Kangur in the Honda Civic Type R, repeating his success in the rally of Scotland last year.
The Estonian had a good start against a strong field of competitors, including Mathieu Arzeno, Harry Hunt and Christian Riedemann. After the first day he had climbed to 2nd place in the 2WD category, even setting the fastest time in the last stage in front of local hero and former overall winner in Ypres, Kris Princen.
After the first 6 special stages the young Estonian driver remained cautious: "It's a long competition and everything can still happen."
But as the rally unfolded Martin's experience with the slippery farmland asphalt roads of the Belgian countryside proved to be a valuable advantage:
"This was my third run in Belgium, so perhaps we were able to avoid some of the traps other competitors fell into." says Kangur. "After Princen retired from the rally, I knew that Arzeno would be close behind, but then he went off the road too. It didn't affect us though and we just stuck to our rhythm and kept the pressure on. During the last special stages, with the finish in sight, it was hard to stay concentrated. But the car was perfect; it didn't give in and I'm extremely happy that we took first place."
"Impressive," was the verdict of Fabrizio Grieco, Martin and Andres' engineer at JAS Motorsport. "Martin made two little mistakes, but that didn't make a difference to the rest of his perfect rally. He drove intelligently, didn't let the pressure of others distract him and showed just how fast he can be on tarmac. Of course he's more at home on gravel, so we're all really looking forward to seeing him compete in the San Marino Rally in early July."
Kangur's win takes the Estonian to joint top of the IRC 2WD Cup standings, along with Brit Harry Hunt. It also hands maximum points to Honda in the 2WD Manufacturer's Cup.