2012 SUPER GT SERIES GT 300 Class
MUGEN CR-Z GT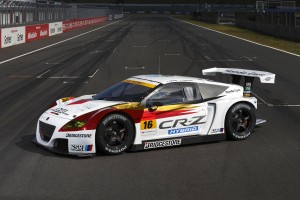 Shin Nagaosa, president of M-TEC Co., Ltd. (Hereinafter called M-TEC) today announced that TEAM MUGEN, with technical support from Honda, will join the Japanese 2012 SUPER GT SERIES competing in the GT 300 Class using a CR-Z equipped with a racing hybrid system. The new car will make its debut at the 4th round of the series to be held at SPORTSLAND SUGO, Japan in July 29.
The standard road car market has seen intensive development resulting in dramatic progress of Hybrid technology, and M-Tec believes that the development and integration of motor assist and/or regenerative energy systems will play an increasingly important role in the future motor sports environment. M-TEC joins the SUPER GT GT300 Class with CR-Z Hybrid in order to contribute to the intellectual growth of the company's young engineers, helping them acquire and expand their knowledge in the use of these new technologies in a competitive atmosphere.
The nominated driver line-up of TEAM MUGEN for this GT300 challenge combines the highly experienced Hideki Muto whose prior knowledge of driving in SUPER GT GT500 and Indy car, will complement his youthful teammate, the highly-rated Daisuke Nakajima, younger son of former Formula One driver, Satoro.
TEAM:  TEAM MUGEN             
MACHINE:  MUGEN CR-Z GT
NO.  16                                       
TEAM DIRECTOR:  Junichi Kumakura
DRIVERS:         Hideki Muto      Daisuke Nakajima
MUGEN CR-Z GT
SPECIFICATIONS
Length / Width / Height (mm):  4,445 / 1,940 more than 1,100
Wheelbase (mm):                                  2,555
Curb Weight (kg):                                  more than 1,200
Engine:                                              2800 cc V6 Twin Turbo + Racing Hybrid
Drivers' Profile
Hideki Muto
2000     Formula Ford European Championship (9th place in series)
2001     Formula Ford European Championship (9th place in series)
2002     Formula DREAM (2ND place in series)
2003     Formula DREAM (Series Champion)
2004     Japanese Formula 3 Championship (9th place in series)
2005     Japanese Formula 3 Championship (3rd place in series)
2006     Japanese Championship Formula Nippon (14th place in series)
Super GT – GT 500 Class (11th place in series, 1 win)
2007     Indy Pro Series (2nd place in series, 2 wins)
Indy Car Series <Spot participation in the final race>(8th place in the final round)
2008     Indy Car Series (10th in series)
2009     Indy Car Series (11th in series)
2010     Indy Car Series (188h in series)
2011     Super GT – GT 500 Class (15th in series)
Daisuke Nakajima
2007     Formula Challenge Japan (5th in series, 4 wins, 4PPs)
2008     Japanese Formula 3 Championship (9th place in series)
2009     British Formula 3 International Series(7th in series, One 2nd place, 1PP)
Masters of Formula 3 (29th place in qualifying round, 19th place in the final round)
2010     British Formula 3 International Series(11th in series, One 2nd place)
2011     Japanese Championship Formula Nippon (13th place in series)
2012     Japanese Championship Formula Nippon (competing in the race currently)