Following their excellent weekend two weeks before with a 1-2 finish in class SP3 on the longest and thus most important VLN race of  the season, the 6 hrs. ADAC Ruhr Cup, where as usual the cars ran faultlessly with Markus Fugel and Uwe Wächtler diving the winning Civic  Type-R car, the Honda racing team of Mugen Euro customer Autohaus Fugel went into the 8th round of the VLN Endurance Championship event with the express goal of victory in class SP3.
Practice and qualifying went very well – both their Honda Civic Type R and the Honda S2000 entries set good lap times. The team around the drivers Fugel/Wächtler and Mihm/Eichenberg were well-prepared for the race around the challenging Nurburgring long circuit, confident with their superlative finishing record all year due to excellent preparation by the team and its technical partners.
But on the warm-up lap, the S2000 was struck by a major electrical problem involving the battery which immediately put the car out before it could take the start.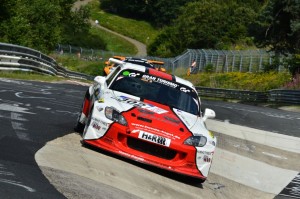 Now it was for the drivers of the team's Civic Type-R, Markus Fugel and Uwe Wächtler, to uphold the banners for Fugel Motorsports. The Civic was fast and at the head of the class – until something in the car's electrical system went down just as in the other car. In this case the driver made it back to the pits, where the Civic remained for 17 minutes while the alternator and part of the wiring loom were changed, the team mechanics working under high pressure.
Back on the track, the drivers gave chase and set the fastest lap of class SP3 in 9: 31.221, with an average speed of 153.580 km/h.
Eventually the JAS-chassised, MUGEN-powered Civic of Fugel Motorsports reached 2nd place on the podium, one lap behind the class-winning BMW Z4 of Bonk Motorsport.
The next round of the VLN long-distance Championship Nürburgringstarts on September 29th  over the distance of four hours.