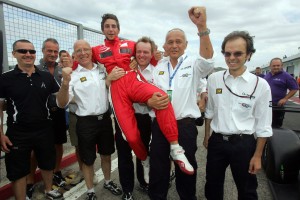 Brandon Maisano, part of the Ferrari Driver Academy, takes pole position, fastest lap and the race win in his TATUUS – MUGEN in the latest round of the Italian CN Sports Prototype Championship.
The promising young Frenchman, having his debut drive in a sports prototype car, also gained the first win for Gianfranco De Bellis' impressive new TATUUS PY-012 car  with its MUGEN engine prepared by Autotecnica Motori, MUGEN's newly-announced technical associate. Maisano was praised by long-time Ferrari key man Luca Baldisserri, head of the FDA –
"A race in a Sport Prototype car represents a very important lesson for Brandon who was able to try his hand in a car that is different to what he is used to. He demonstrated a really surprising ability to adapt quickly. His ability was striking and we are very pleased with this test."
The Ferrari protégé won against strong opposition at the demanding Umbrian track with its multiple corners and long straight and no doubt, as well as furthering Brandon's career, has set the pattern for many future victories for the TATUUS-MUGEN combination.