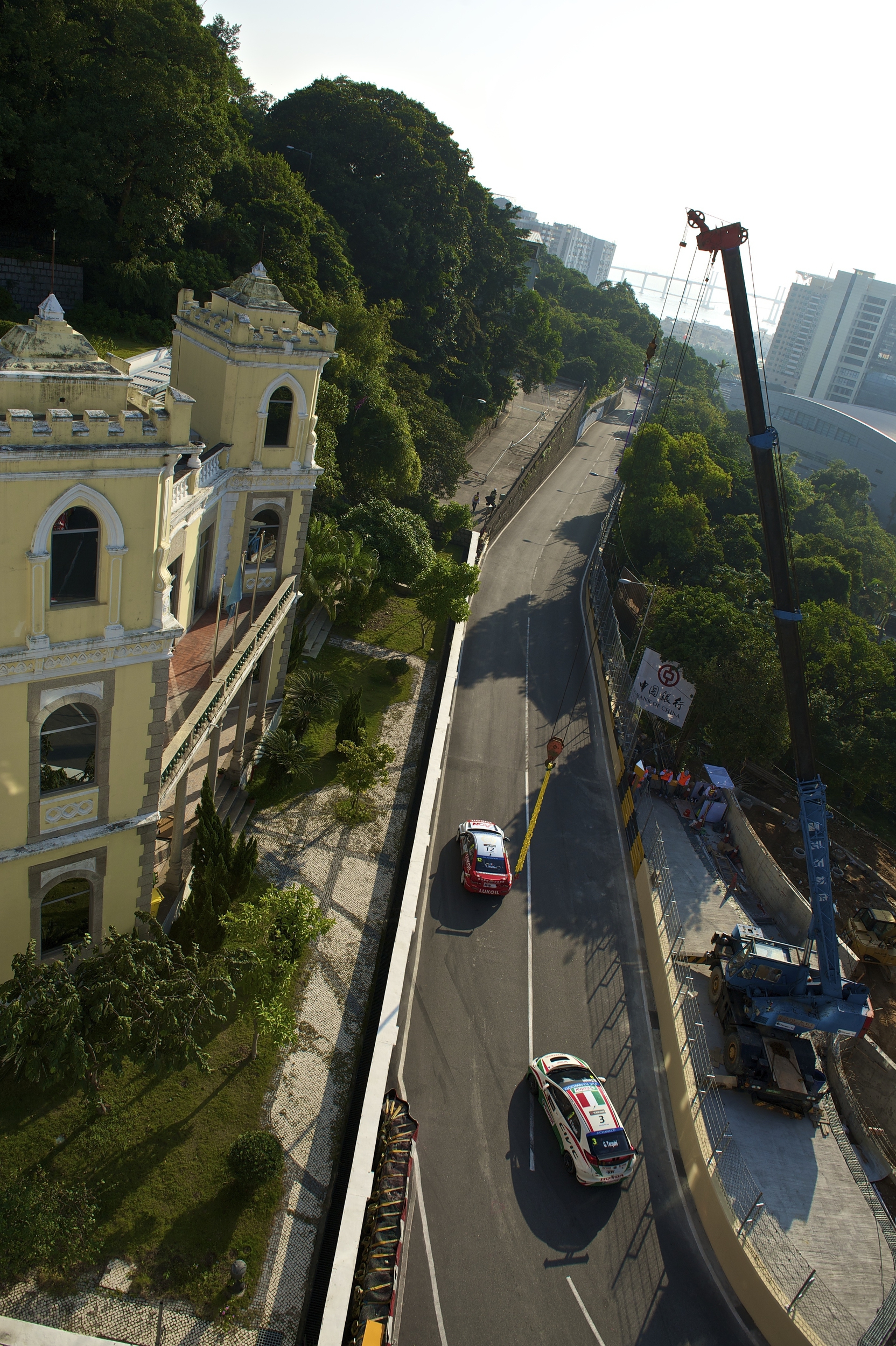 Tiago Monteiro collected his fifth podium appearance of the season when he finished second in Race 1 in the FIA World Touring Car Championship finale here in Macau today. Right from the start the Portuguese star was under intense pressure but drove superbly to keep all challengers behind the number 18 Castrol Honda for the full nine laps to finish just a car's length ahead of his nearest rival.
For Gabriele Tarquini the day turned into an anxious drama when an electronic fault was discovered during the brief early morning warm-up session which necessitated the engine be changed. Tarquini would miss the start of race 1 and his slim 25 point advantage holding second place overall in the Drivers' Championship looked under threat. Frantic work by the JAS Motorsport team had the Civic ready for race 2 where the Italian was able to finish 9th overall to secure his well-deserved Championship runner up title.
While Gabriele was forced to sit-out race 1, Norbert Michelisz took a hard won 4th place in his Zengő Motorsport Civic. However the young Hungarian was not so fortunate in Race 2, when multi-car accident just meters after the start eliminated his Civic and several other cars. The close confines of the Guia street circuit were to prove treacherous for the drivers during race 2 which had to be restarted not once but twice.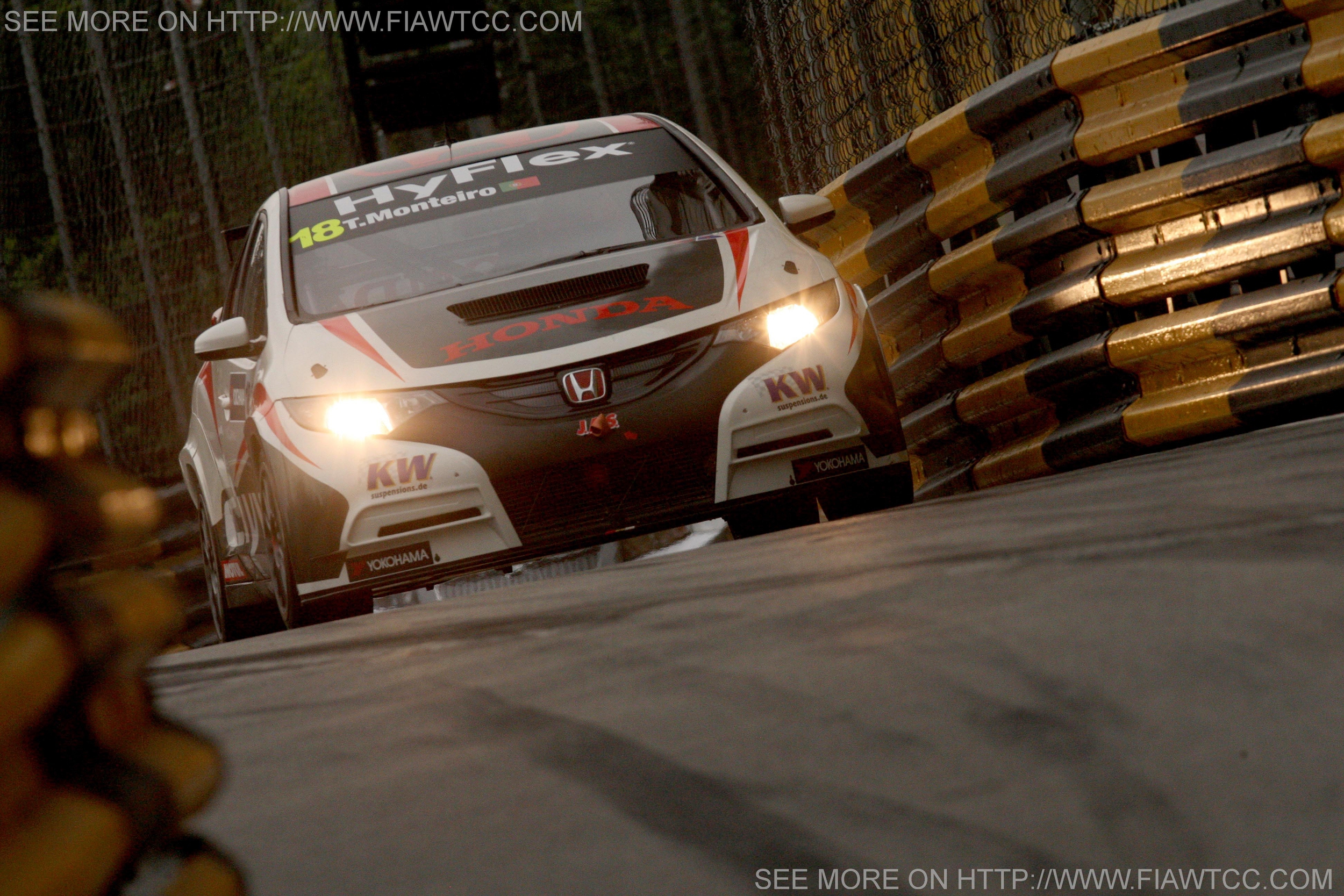 Monteiro avoided the start chaos but had contact on the first lap of the restarted race and was forced out of the running with damaged rear suspension and brakes. Tarquini also managed to evade the many wrecks during the race that eventually was completed nearly 90 minutes behind schedule. His sterling drive netted a further 2 points and, with his potential challengers all falling away, his runner-up position was confirmed as a great credit to his hard work during the season.
"I am very pleased to take second place," said Tiago. "It was a real fight for the whole race. When it is so close like that on this very, very tough circuit there is just no room for the smallest error. I had to keep my speed and at the same time be aware of where the other car was all the time. So today I go one place better in the race than last year. In race 2 I was clear of the first crash but we were two cars wide at the corner and touched and it damaged my suspension."
For Gabriele Tarquini securing the overall second place in the Championship is another milestone in his illustrious career which includes his World Championship in 2009. "I really wanted to be in race 1 as I was starting from the second row and could have been challenging for the victory. However getting more points after all the drama has proved valuable. It has been a very rewarding year and the Honda is now really competitive. We start a new era with the new regulations for 2014 so that will be a new challenge for the team."
Daisuke Horiuchi, Large Project Leader for WTCC development from Honda R & D explains the decision to change Tarquini's engine. "After warm-up this morning we found an electronic problem relating to the engine. We tried to find the remedy but in the end there was no choice but to change the engine. It was a good job to get the car ready for race 2 and Gabriele drove brilliantly again to collect valuable points."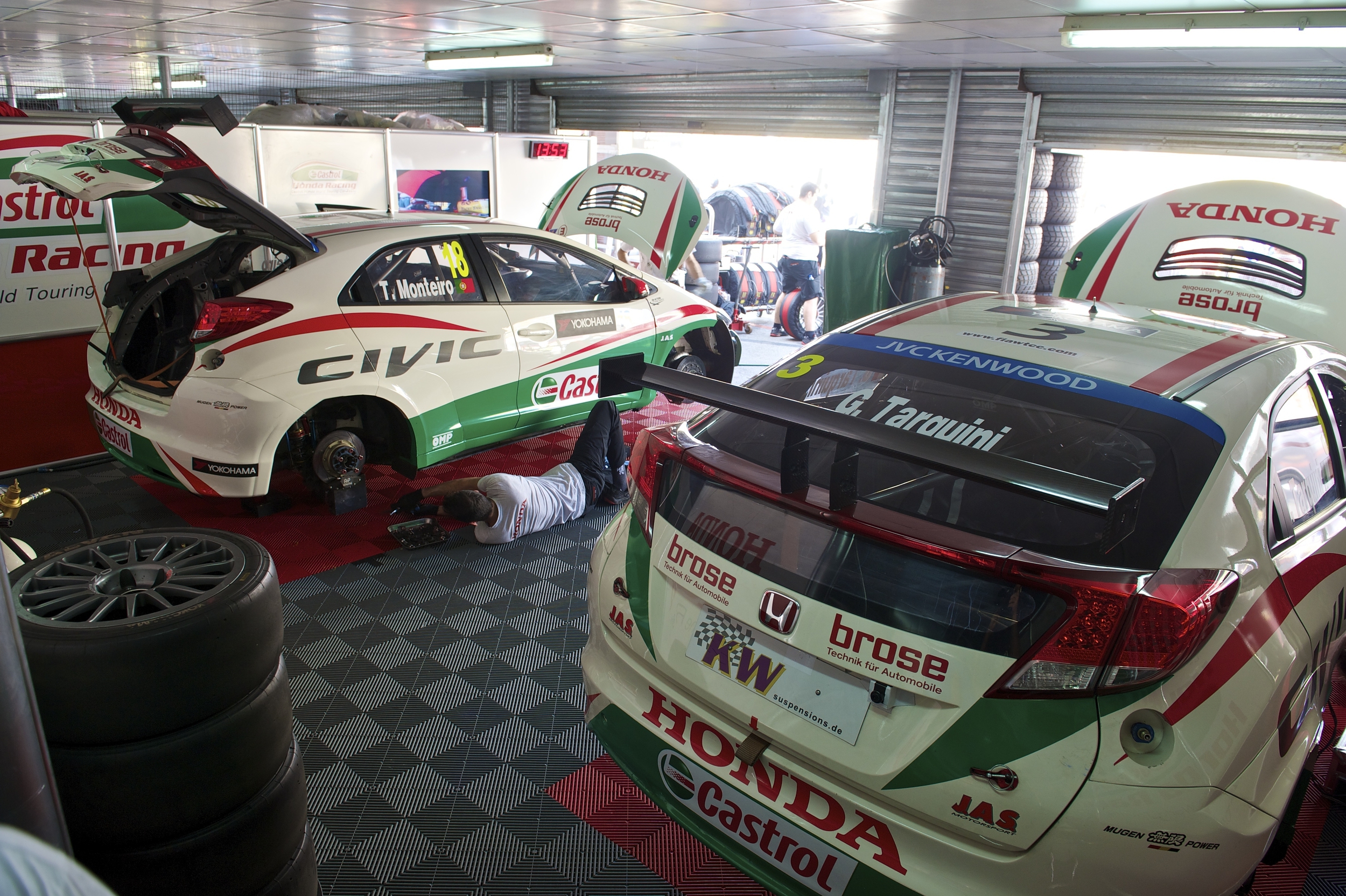 Round 12: Macau
Race 1
Rank      Driver (Team)
1              Yvan MULLER (Chevrolet Cruze)
2              Tiago MONTEIRO (Honda Civic WTCC)
3              Rob HUFF (SEAT Leon WTCC)
4              Norbert MICHELISZ (Honda Civic WTCC)
5              Alex MACDOWALL (Chevrolet Cruze)
6              James NASH (Chevrolet Cruze)
Race 2
Rank      Driver (Team)
1              Rob HUFF (SEAT Leon WTCC)
2              Pepe ORIOLA (Chevrolet Cruze)
3              Tom CORONEL (BMW 320 TC)
4              James NASH (Chevrolet Cruze)
5              Alex MACDOWALL (Chevrolet Cruze)
6              Yvan MULLER (Chevrolet Cruze)
8              Gabriele TARQUINI (Honda Civic WTCC)
RT           Tiago MONTEIRO (Honda Civic WTCC)
RT           Norbert MICHELISZ (Honda Civic WTCC)