Motegi,4 September 2016
FIA World Touring Car Championship 2016 – Round 17 & 18 – Japan – Race Results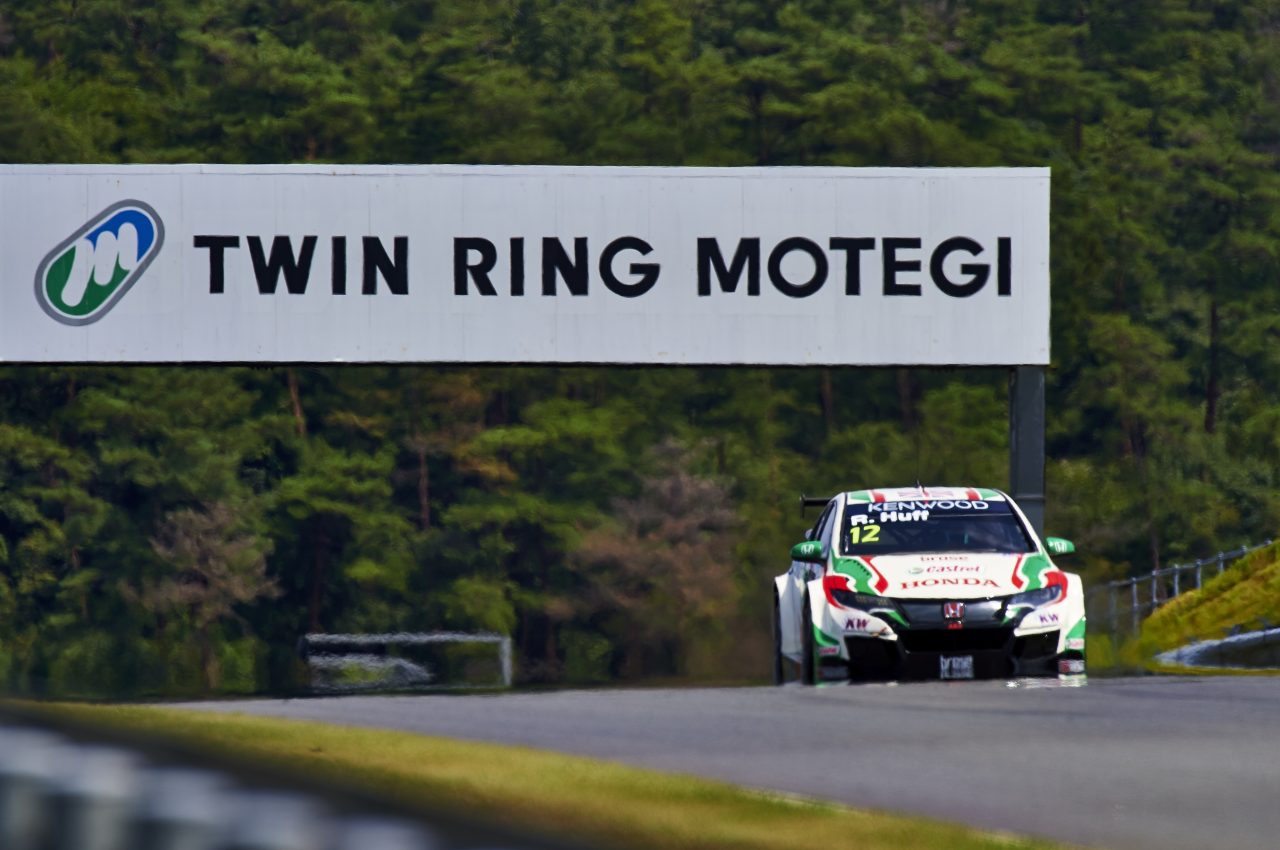 Honda secured an historic 1-2-3 finish in the FIA World Touring Car Championship's Race of Japan with Norbert Michelisz heading the podium lock-out at Motegi on Sunday.
The Hungarian started the Opening Race from pole position, made a terrific start and controlled the race to take his maiden victory as a factory driver and stretch Honda's winning run in the WTCC in Japan to four successive years.
It was the fourth WTCC victory of the season for Honda, adding to wins claimed in France, Slovakia and Portugal.
Castrol Honda World Touring Car Team Driver Rob Huff started alongside Norbert and maintained second place throughout to secure his third successive podium finish
Tiago Monteiro, meanwhile, made a rocket start from seventh on the Opening Race grid and lay fourth at the end of the first lap. He snatched third at mid-distance and held it to the chequered flag.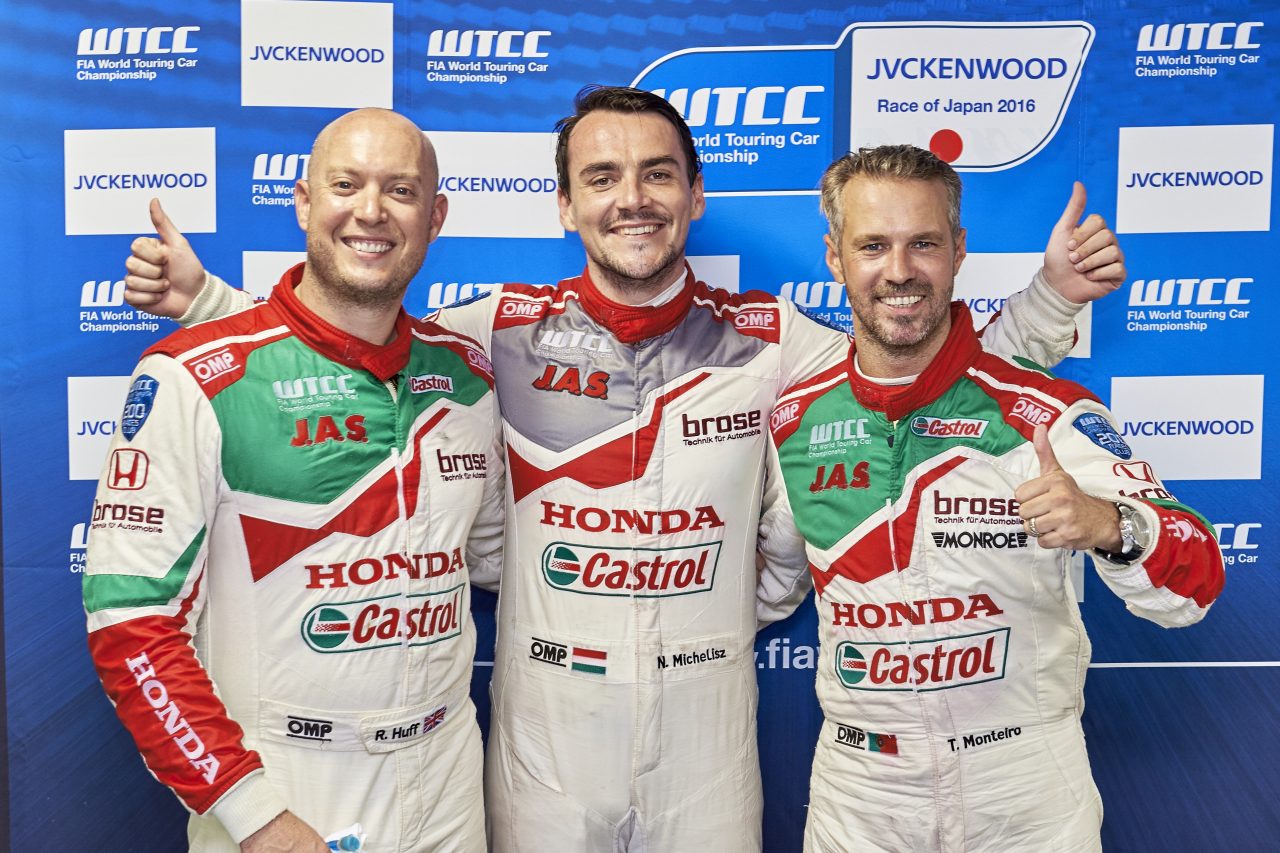 The Portuguese added another third place in the Main Race to make it four podium finishes out of a possible six for Honda at Motegi and 19 for the season while Norbert and Rob claimed eighth and ninth places; each finishing higher than they started.
Wildcard Ryo Michigami, who drove a fourth factory Civic WTCC this weekend, finished 11th in the Opening Race and missed out on a points finish by less than two seconds. A malfunctioning cool vest caused his Main Race pace to suffer in the sweltering in-car temperatures. He finished 17th.
Tiago's pair of podiums maintains his second place in the drivers' championship while Rob remains fourth overall and Norbert moves up a spot to fifth. Honda continue to lie second in the Manufacturers' Championship.
The 10th round of the WTCC takes place at the Shanghai Circuit in China on 24-25 September.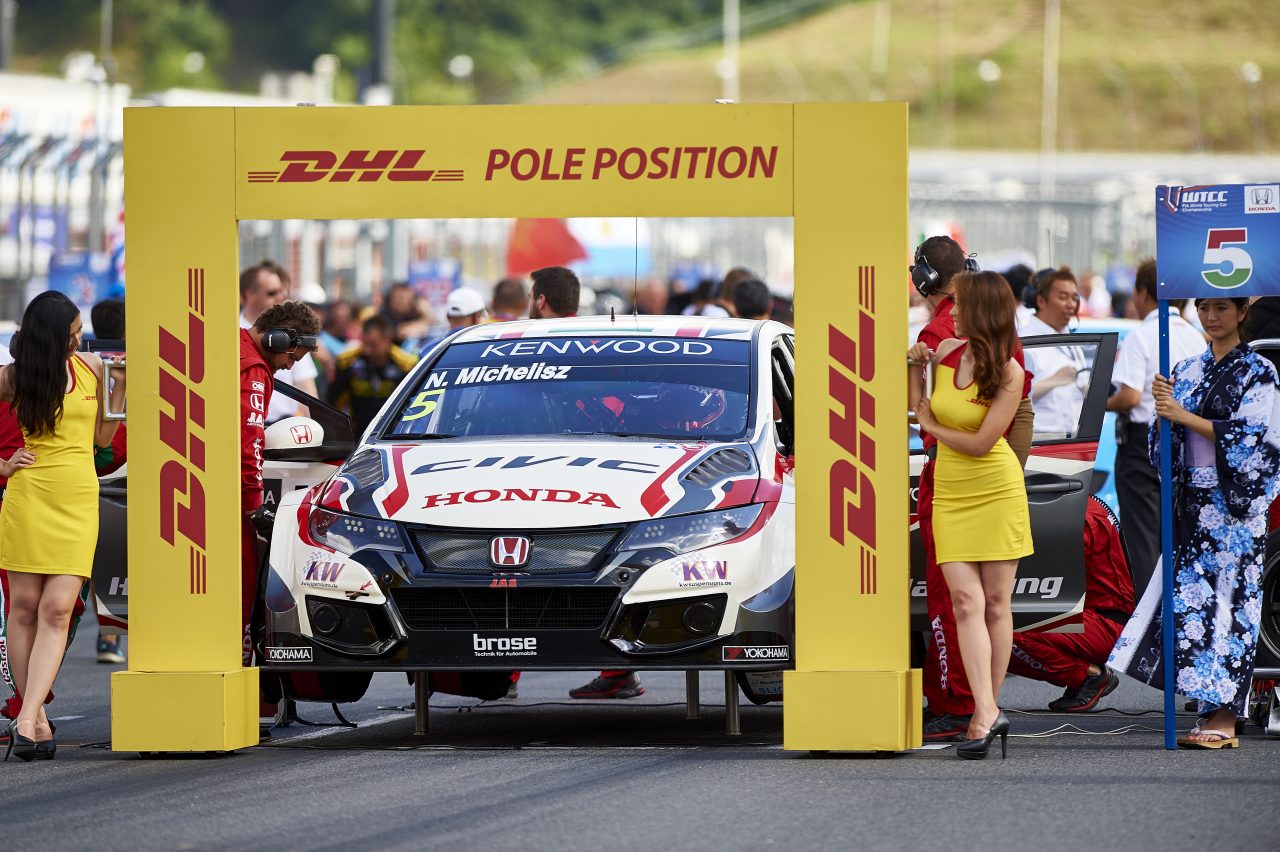 Tiago Monteiro, Castrol Honda World Touring Car Team, said: "This weekend has gone much better than I could have expected, and the same goes for the whole team. We knew it would be tough with 80kg, but I've been on the podium twice – making up places from my starting position in both races – and as a team we've taken four out of six rostrum spots as well as getting a 1-2-3. Unfortunately today is the day it was provisionally confirmed that I won't be champion this year, but the damage was done when we lost some big points in the middle of the season; not today. It doesn't take anything away from what we've achieved today."
Rob Huff, Castrol Honda World Touring Car Team, said: "Today's result owes so much to the clever strategy we employed in qualifying to put Norbi and myself at the front of the grid for the Opening Race. I was hit from behind quite early on and that left the rear of the car with quite a bit of damage, so I was a little worried that this might affect my race, but it didn't. To be part of a 1-2-3 finish for Honda at our home track and with 80kg of compensation weight is more than I, or any one of us in the team, could have dreamed of. The Main Race was tough because from P9 on the grid, with the weight, coming through is very difficult, but it's still more valuable points for the championship."
Norbert Michelisz, Honda Racing Team JAS, said: "Today is a great day for Honda and myself. Even before Argentina I said I wasn't interested in finishing second or third any more; I wanted to win, and after what happened there I was even more determined this weekend. It's a fantastic feeling to get my first win as a works driver and to do it here, at Honda's home circuit, is more than I could ever have wished for. I have to thank the team so much for giving me a car that was so fast even with 80kg of compensation weight and actually, once I made a good start, the race was quite straightforward and I knew that with Rob behind me, he wouldn't try anything stupid either."
Ryo Michigami, Honda Racing Team JAS, said: "I've enjoyed my debut in the WTCC and my first races in touring cars for a long time. The Opening Race went very well. I used some of the things I learnt in practice and qualifying to help my performance and was very close to finishing in the points. The Main Race was more difficult because my cool suit stopped working and that meant I got very hot in the car and very tired, so my pace slowed towards the finish – these cars are very physical to drive; much more than I expected. I had to go to the medical centre afterwards, but everything is fine. I'd love to have another go next year."
Alessandro Mariani, Team Principal, said: "Today is a fantastic day for Honda. When we arrived here with 80kg of compensation weight, we thought it would be impossible even to get one car on the podium because of the huge effect on acceleration. But to have four podiums out of six today is probably even better than we could have hoped for and I'm proud of the contribution of everybody involved with the Civic WTCC project. Today I'm especially delighted for Norbi. He's had some disappointments recently and has put himself under a lot of pressure to get his first win as a factory driver. I'm sure now he has broken that barrier, he can win many more, just like Rob and Tiago."
Daisuke Horiuchi, Large Project Leader WTCC Development, Honda R&D: "I am very happy today. We knew it would be a very big challenge to come here with 80kg of compensation weight and win in front of our home supporters, and even after the first practice session we were not sure we could even get one car on the podium this weekend. But we have worked very hard as a team throughout the weekend, have taken four of the possible six podium finishes, had 100 per cent reliability over the two races and taken our fourth win of the season. Also, we have had three factory Honda drivers winning races in one season, which has never happened before in the WTCC."