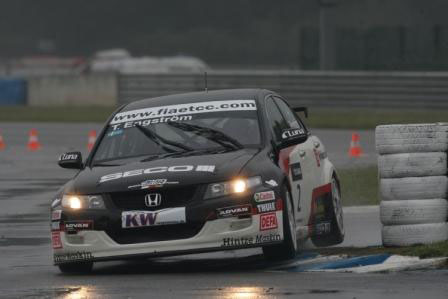 On a very wet and cold weekend in Braga, Portugal, all the top drivers from all the FIA Touring Car championships across Europe got together for the finale of the season.
The FIA European Touring Car Cup has been going since 2005 and is the finale for all the best Touring Car drivers from across Europe. This year Tomas Engstrom from Engstrom Motorsport driving his MUGEN engine powered Honda Accord Euro R was invited.
In qualifying he came a very impressive 5th with a time of 1:25.361, 0.39 seconds ahead of his Honda rival James Thompson. In the first race Tomas unfortunately came 9th but in the second race he came a very satisfying 3rd. Chasing James Thompson (winner) all the way to the finish line. Finishing just 0.46 seconds behind him.
James Thompson won on points at the end of the competition, with Tomas Engstrom finishing 6th overall.